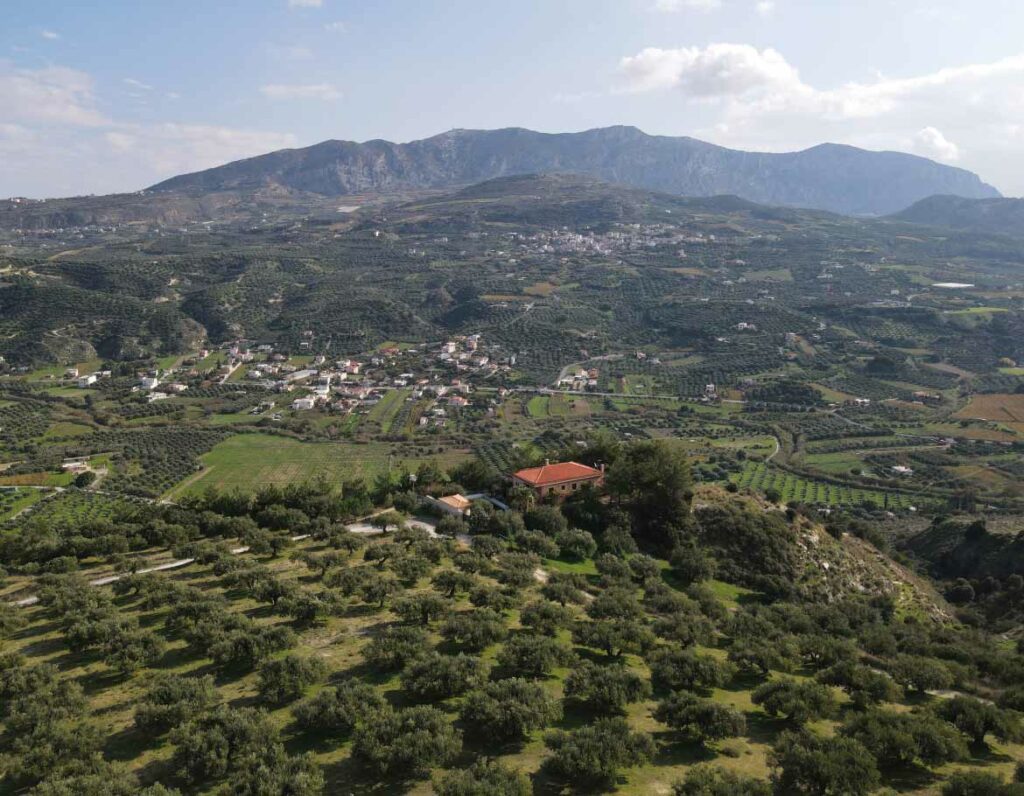 The estate is located in Heraklion, on a hill with views of the Ayios Sillas plain, and Giouhtas the imposing mountain that is found on the South-West of Knossos. It is an ideal place for relaxation at the countryside but at the same time the capital city Heraklion is only 15 minutes away by car. The location of the estate at the center of the island makes the access to historical monuments, beaches, cities and villages easy and fast. Nikos Kazantzakis international airport is 15 minutes away by car and Heraklion port 20 minutes away.
Crete is one of the 13 prefectures of Greece and the second biggest island of East Mediterranean. It is found at the South end of Aegean Sea, at the cross of three continents (Europe, Asia, and Africa). It is 260 km long but the coast is 1046 km long. It is surrounded by the sea and beautiful sandy or rocky coasts for which the island is well known, however, a mountainous area crosses the island from the West to the East. At the West the White Mountains (Lefka Ori) (2.452 m) are found, in the middle the mountain Idi known for the peak Psiloritis (2.456 m), and at the East the mountain Dikti (2.148 m). The presence of natural elements and their beauty is very vivid at the island. There are hundreds of caves (most unexplored), gorges, plateaus and a big variety of flora (in Europe) and fauna. Crete was the centre of one of the most ancient civilizations of the world, the oldest Greek civilization the Minoan (circa 2600 1400 BC). Today it combines the history with civilization and offers unique experiences close to nature. Crete is well known for its hospitality and the gastronomy. In heraklion it is worth visiting Knossos, the archaeological and the history museum and the aquarium, the biggest in the Mediterranean.
Nikos Kazantzakis International Airport 15 km

Heraklion Port 12km

Heraklion 10km

Knossos 15 km

Rethymnon 70km

Aghios Nikolaos 65km

Chania 130km
How close is the market?
A super market and the butchers is 1km away from the estate. Getting closer to the city there are more options of shops and restaurants. The gas station is 5km away.
Is there a hospital close to the estate?
Two big national hospitals are 15 minutes away by car. At the city center (10km) there are private general clinics. A well-organized haemodialysis center (www.mesogeios.gr) is 15 minutes away by car.